How can I help my child?
New Dorset Education Advice Line goes live
From 18th October 2021, a new Advice Line will be operated, Mondays to Fridays 10am-4pm during term time. This service is for parents, carers and professionals who are looking for advice regarding emerging issues for a child with special educational needs and disabilities (SEND). Parents and carers have told us it can be difficult to understand SEND services and how best to support their child. We know that providing information and advice early is vital to helping secure the right support for any child with emerging needs.
Parents, carers and professionals can book a 15-minute telephone call with a SEND Family Worker to talk through their concerns and issues. Appointments are booked by calling the FREEPHONE number, 0800 1404041 or online via the webpage, and they will be called back at their allotted time. We are launching the service as a pilot so that we can understand how we can improve our SEND Local Offer and improve this telephone support service.
The Advice Line is part of our 'Local Offer' to children, young people and families and will work alongside existing services such as SENDIASS and the Educational Psychology Line.
Please contact Kath Saunders if you have any questions relating to the Education Advice Line.
Useful Information and Links
Autism, Sensory Processing Difficulties and ADHD
Daisy Chain offer a telephone service to enable families to access advice, support and resources.
The service is open to young people, adults and families and those affected by neurodevelopmental disorders. Our aim is to provide support and services for those who display traits associated with autism spectrum disorder (ASD), sensory processing differences, and attention deficit hyperactivity disorder (ADHD).
The service is for those pre, during and post diagnosis.
The team are supporting families with the following:
responding to enquiries from parents, young people and adults and carrying out telephone appointments
sourcing, sharing and sending resource packs to support parents with loneliness and isolation
creating and sending bespoke resources and visuals.
To contact the care team, please call 0800 031 5445.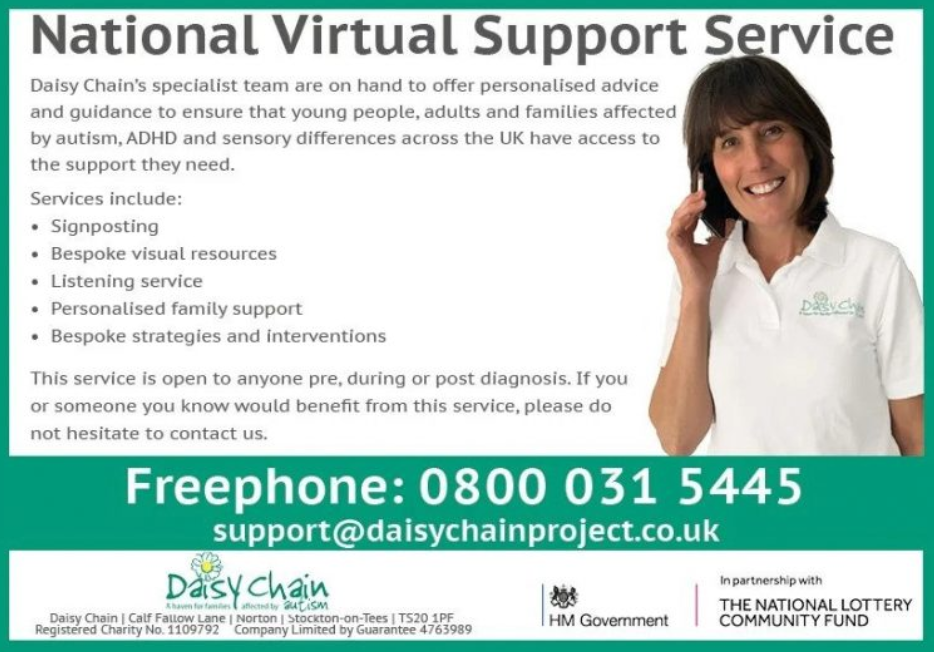 ADHD, A Guide for Parents: What to Expect and How to Manage
https://www.adhdfoundation.org.uk/wp-content/uploads/2019/01/Parents-Guide_FINAL.pdf
Asperger's Syndrome https://static1.squarespace.com/static/54c90ad3e4b051e8e01d60b2/t/5974ab83725e25e03b684371/1500818310414/Aspergers+Syndrome+-+Teenagers.pdf
Autism Spectrum Disorder
https://static1.squarespace.com/static/54c90ad3e4b051e8e01d60b2/t/5974ac2cd2b85704bb50b68f/1500818479440/Autistic+Spectrum+Disorder.pdf
Bedwetting
https://www.eric.org.uk/pages/category/bedwetting
British Dyslexia Association
https://cdn.bdadyslexia.org.uk/uploads/documents/Empowered-Parents-2021.pdf?v=1623937986
Disability; What the Law Says (produced by Dorset County Council)
https://static1.squarespace.com/static/54c90ad3e4b051e8e01d60b2/t/5974ae58f14aa142f53ff58a/1500819036397/DCC+-+Disability+-+what+the+law+says.pdf
Dyspraxia Explained
https://dyspraxiafoundation.org.uk/wp-content/uploads/2014/12/Dyspraxia-Leaflet-2014-proof-V3-final.pdf
Foetal Alcohol Spectrum Disorder
https://www.nhsaaa.net/media/5702/fasd-info-for-parents-carers-online.pdf
Making Sense of Sensory Behaviour
https://static1.squarespace.com/static/54c90ad3e4b051e8e01d60b2/t/5974acc36b8f5b2952f9e7e8/1500818628153/Making+Sense+of+Sensory+Behaviour.pdf
PANS (Paediatric Acute-Onset Neuropsychiatric Syndrome)
PANDAS (Paediatric Autoimmune Neuropsychiatric Disorder Associated with Streptococcal Infections)
https://74b3576c-2926-474a-b4f3-782e8562d0b8.filesusr.com/ugd/5769d0_202364a914254f189425f3282033b0ea.pdf
Sleep Information
https://static1.squarespace.com/static/54c90ad3e4b051e8e01d60b2/t/5974acf646c3c431eb5b7b20/1500818686655/sleep+info+for+parents%2C+Early+support.pdf