Oly Rush -Project Planet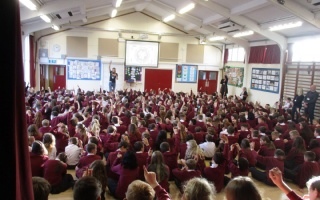 On Tuesday, pupils and staff enjoyed an inspiring assembly led by Oly Rush. Oly has a passion for swimming in the pool and the sea. In 2020, he swam 100 miles in 10 days along the Jurassic Coast and beyond raising almost £10,000. In 2021, Oly set the world's fastest time, swimming solo around the Isle of Wight in 15hr 9mins, this time raising over £12,000 for local charities. In May this year he completed a solo, no stop swim around the entire island of Grand Cayman in an incredible 36hr 59mins!
Oly loves the sea and is passionate about minimising the impact we have on the oceans. During our assembly he shared his commitment to actively fighting plastic pollution. He even showed us the oldest piece of plastic ever recorded - 50 years! We were shocked to see that the plastic bottle was still intact with its logo clearly visible.
Oly's mission is that 'Project Planet' will educate, raise awareness, and encourage people to take action against this destructive force that affects all of our lives. During the assembly, pupils and staff pledged to be the best environmentalists we can be. As Oly said, 'Every little helps!' - Turning the tap off when brushing our teeth, using reusable water bottles, litter picks in our local community or beach cleans.